UNFORGIVEN BOOK BIRTHDAY!!
Posted by
Lori Adams
, in
Blog
category
April 21, 2015
Don't miss the epic conclusion to THE SOULKEEPERS SERIES!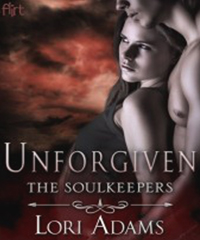 What readers are already saying . . .
"A uniquely captivating and utterly compelling story"~By Tamara @ The Avid Book Collector
"Just when I thought that Lori Adams couldn't possibly improve what was already perfection, she showed once again what an amazing writer she is by exceeding my expectations – and believe me, they were high. Unforgiven is so uniquely captivating and so utterly compelling I really had to struggle to put this book down. With tons of action, hot romance and characters you can't help but love and love to hate, Unforgiven is a definite must read that I would highly recommend to any fans of paranormal romance."
"This series is a beautifully written story of light vs dark, good vs evil, and of two loves, one tragic and one destined. The books must be read in order so if you haven't started the series yet, settle in and start at the beginning. You're in for the ride of your life."~Carol, Goodreads
Wherever ebooks are sold.