FORBIDDEN ON SALE
Posted by
Lori Adams
, in
Blog
category
July 15, 2015
FORBIDDEN promotional Sale .99 wherever eBooks are sold
In honor of the FORBIDDEN (#1) sale, I thought we might like to hear from Michael. This is an interview from the blog tour for UNFORGIVEN (#3) but it gives a unique insight as to how Michael feels about Sophia. This was lots of fun and I'm wondering if I should do one for Dante as well . . .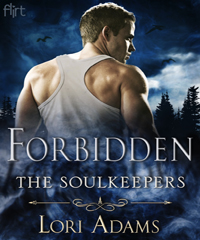 Character Interview
"Please welcome Michael from Lori Adams' Unforgiven to Diane's Book Blog."
What is your name? Do you have a nickname?
I am called Michael Patronus. I do not have a nickname in the human sense, but there are many titles to my existence: guardian angel, Soulkeeper, spirit warrior, Halo of the Son, and Grigori.
What is your hair color? Eye color?
I am as blonde as a lightning strike across the sun. My eye color reflects my moods; pale blue when I am at peace, a churning kaleidoscope of colors when I am called to save a soul, and dark indigo when I am . . . aroused.
How old are you?
As a human I am eighteen years old but I was born of light in the realm of countless days. I have no soul to age but my holy light is eternal when kept pure.
What is your biggest fear?
I have no fear save one: losing my soul mate, Sophia St. James. It was forbidden to love her, to submit to the forbidden human emotion of desire, but I had to have her. I fought and sacrificed to make her mine. I will destroy anyone and anything that tries to take her from me.
What or who is the greatest love of your life?
There is only one that I love beyond all others, Sophia St. James. She is part of my own soul, born from the powers of the unseen. We share heartbeats. We share souls.
Which living person do you most despise?
Despise is too soft a word for the depth of my hatred for the Demon of Persuasion, Dante Dannoso. Demon Knight Dante became my greatest enemy the moment he looked at Sophia. It is true he has loved Sophia for centuries, but his love is forged from greed, obsession, and jealousy. What he calls 'love' has nearly destroyed her countless times. By my holy vows, I will spend eternity protecting her from his demonic 'love'.
Which living person do you most admire?
I am in awe of Sophia. She has an inner strength beyond compare. I have never seen another human like her. She faced horrible trials—demons and creatures sent to kill her—that would have brought most humans trembling to their knees. Sophia has changed a great deal since the day I met her. No longer lost and unsure, she has grown into a powerful warrior herself. She worked hard and became what she wanted most, a Spirit Walker. She is a leader of warriors. Heaven or Hell, I will follow wherever Sophia will go.