Forbidden: The Soulkeepers
Posted by
Lori Adams
, in
Blog
category
March 20, 2014
Early Praise For Forbidden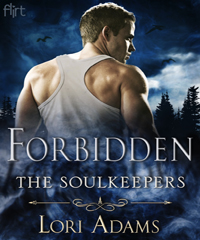 Lori Adams is a look out for, keep on your constant radar for your next book     author.
Forbidden is one of the most gripping paranormal new adult books I've read since I fell in love with a sparkly creature of the night. The combination of chills, thrills, humor and sweetness plant a curiosity seed that kept me rooted to my seat and turning page after page in excitement.Being the first book in the series and in paranormal is sometimes tough. They tend to be slow going while setting ground rules for the new world, explaining terms that need to be understood and introducing and building the players involved. But Lori did an excellent job with the fresh take on an old theme. I was completely engaged while learning about it and getting to know the insatiably curious Sophia, Dante's tortured and ever suffering soul and Michael's goodie sweet and sexiness. She also outdid herself with the hilarious crew surrounding this trio down to the town's people. They're all the kind of characters you will take with you well after you hit "the end".

The book is told from the main characters' alternating point of view, it's mostly told from Sophia's very poetic perspective, which I found funny and endearing.
And even though I encountered several similarities to another paranormal series, it doesn't matter in the overall scheme of things, because even though you'll most likely smile and reminisce, it won't help you predict the plot development, much less prepare you for its unfolding. It is completely different and literally heart stopping.
The book ends with a very happy non ending. Because it leaves you with as many answered as new unanswered questions that will make you want to click pre-order button on second installment if it were available.
I totally loved it.