FORBIDDEN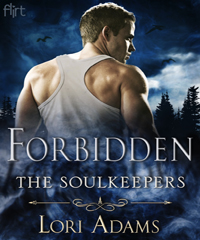 FORBIDDEN; THE SOULKEEPERS is a tantalizing tale of old legends and new myths sprinkled with humor and blood.

When seventeen-year-old Sophia St. James moves from Los Angeles to a podunk town somewhere in Connecticut, she hardly expects to discover its startling secret—it is home to a family of Guardian Angels. Nor does she expect to fall in love with Michael, an irresistible yet volatile Guardian who distrusts her because she can see him in spirit form.

As Michael struggles with his forbidden desire for Sophia, Dante arrives. He is handsome and charismatic and one of hell's most notorious Demons. He has come for the reincarnated soul of his lost lover residing in Sophia.

Unable to resist Dante's addictive charm, Sophia is drawn into a haunting and dangerous game where souls are gambled away and the Kiss of Death wins all.
But will killing Sophia be the end of her or just the beginning . . .